One of the things we all can agree on is that African women are beautiful. Their raw and unrefined beauty is breathtaking, they radiate strong energy and turn heads of males worldwide. Appearances of African girls differ majorly depending on the part of Africa they come from. For instance, Somali girls mesmerize with their dark complexion and magnetic dark eyes, whereas ladies from South Africa are usually blonde and have blue eyes. One way or another, they all look amazing, and here are some ladies who prove this point.
#1 Candice Swanepoel
Candice Swanepoel is a worldwide famous supermodel that was born in Mooi River, Kwa-Zulu Natal, South Africa in 1988. Candice is one of the most highly acclaimed models in the world, with the Forbes listing her 8th on the top-earning models' list in 2016.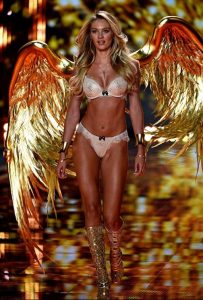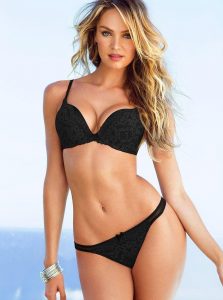 Her career started back in 2003 when Swanepoel was just 15 and a model scout spotted her in a Durban flea market. The girl's outstanding beauty captivated not only him — quickly after her first modeling work, she was invited to cooperate with the best brands worldwide. She has appeared in advertising campaigns for Tom Ford, Oscar De La Renta, Givenchy, Miu Miu, Tommy Hilfiger, and many others. Moreover, Candice has also appeared in editorials in Vogue, Elle, GQ, Harper's Bazaar, etc.
Swanepoel has walked the runway for Fendi, Chanel, Tommy Hilfiger, Dolce and Gabbana, Michael Kors, Donna Karan. 
But what is this sexy African woman best known for is her career as a Victoria's Secret Angel that started in 2010. Three years later, in 2013, she was honored with wearing the "Fantasy Bra" in the Victoria's Secret Fashion Show.
#2 Fatima Siad
Fatima Siad is a beautiful and extremely strong-spirited Ethiopian-Somali woman, whose amazing body and mesmerizing face brought her the status of a successful fashion model. Fatima was born in 1986 in Somali, but her modeling career started only when she moved to Boston and auditioned for the 10th cycle of America's Next Top Model. She placed third, but it did not stop her from achieving great results in modeling outside of the TV project.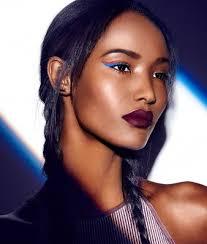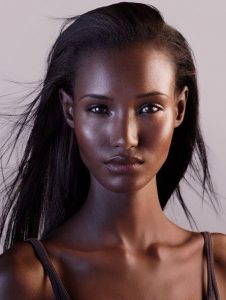 Currently, Siad is currently signed with New York Model Management in New York City as well as with Munich Models In Munich, Germany. She has successfully walked for brands with worldwide names such as Giorgio Armani, Hermés, Ralph Lauren, Dries Van Noten, Max Azria, Emilia Wickstead, Moncler Gamme Rouge, J. Crew, Nanette Lepore, Alexandre Vauthier, Hervé Léger. Apart from that, she has also worked with for Ralph Lauren, Marc Jacobs, Hervé Léger, Tiffany & Co. to advertise their products.
#3 Malaika Firth
Malaika Firth is a famous Kenyan-born British fashion model. Being born in 1994, Malaika has already gained worldwide popularity. She started her career back in 2011 and in 2012 already walked her first international runway. Her debut was at the New York Fashion Week SS2012 for Odilon. What brought universal attention to this sexy African woman is that she was the first black model to work with Prada since Naomi Campbell 20 years prior to that!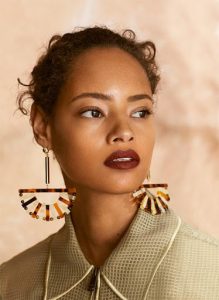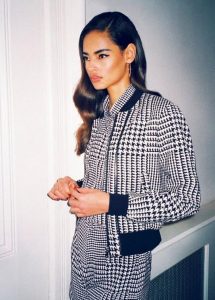 However, modeling is not Firth's only talent. Malaika is keen on acting and said that if it was not for the runways, she would have probably tried herself in the theater. In fact, she acted in several amateur productions in Barking local theatre.
#4 Halima Aden
Instagram: instagram.com/halima/
Halima Aden is among the most well-known Somali models. Born in 1997 in the Kakuma refugee camp in Kenya, Halima has seen a lot of things in life that shaped her as the human being she is now. The multiple difficulties she faced in life did not break her. On the contrary, they gave her the strength to be an amazing human she is!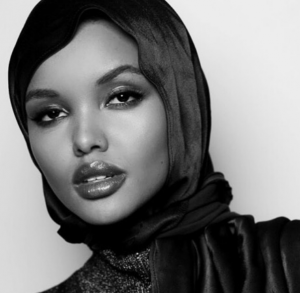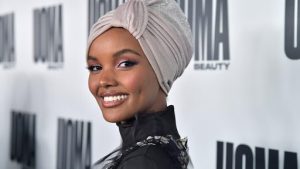 She fights for her rights as a Muslim girl, as well as for the rights of all Muslim girls and the way they are represented in media. For this reason, Aden is trying to move the modeling industry towards diversification. For instance, in 2016, Aden got national media attention after competing in the Miss Minnesota USA pageant. The cause of the public resonance was the fact that she was the first contestant in the pageant to wear a burkini and a hijab. 
In 2018, Aden became a UNICEF ambassador. She focused her work on fighting for children's rights.
#5 Liya Kebede
Liya Kebede is an Ethiopian-born actress, WHO ambassador and supermodel. She was born in 1978 and is considered to be one of the hot African women due to her outstanding looks! In fact, in 2007 Forbes identified her as the eleventh-highest-paid top model in the world. Another indicator of her modeling success if that Liya appeared on the cover of the editorial in the US in Vogue three times.  n 2003, Kebede was named the newest face of Estée Lauder cosmetics, being the only ever Ethiopian to collaborate with the brand. Apart from that, Kebede also worked with such famous brands as Yves Saint-Laurent, Victoria's Secret, Tommy Hilfiger, Dolce & Gabbana, etc.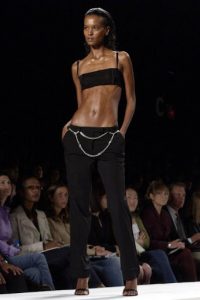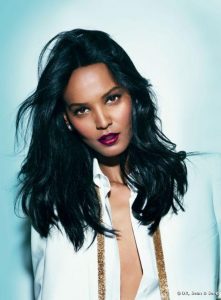 Apart from being a model, Liya Kebede is also a philanthropist. She cares a lot about giving back to society, which spurred the launch of her clothing line Lemlem, aimed at preserving the art of traditional weaving in Ethiopia and increasing work opportunities in Ethiopia. 
In addition to that, this charming African woman was also appointed as WHO Goodwill Ambassador for Maternal, Newborn and Child Health.
#6 Megalyn Echikunwoke
Megalyn Echikunwoke is an actress who was born in 1983. She gained popularity after starring in the role of Tara Price in CSI: Miami. However, her filmography features a couple more successful roles such as Isabelle Tyler in The 4400 and as Mari McCabe / Vixen in the Arrowverse.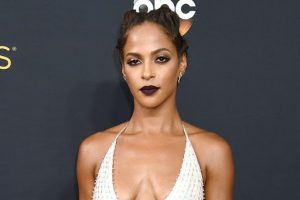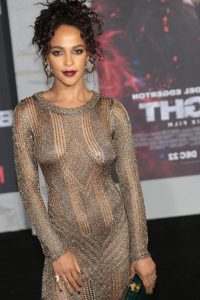 Apart from being an actress, Megalyn has a career of a political activist. It began in 2007 when Echikunwoke campaigned for the 2008 Democratic Presidential nominee Barack Obama. 
#7 Gugu Mbatha Raw
Gugu is an English actress born in 1983 in a family of a South African man Patrick Mbatha. Her most famous roles include Kelly in Black Mirror, Dido Elizabeth Belle in Belle, Noni Jean in Beyond the Lights, and Plumette in Beauty and the Beast.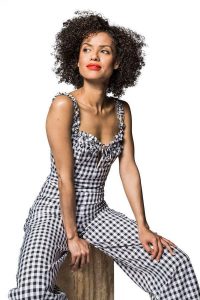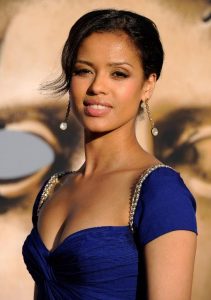 She started her career with playing supporting roles in such famous British TV shows as Doctor Who.
#8 Charlize Theron
Charlize Theron is a sexy African girl who was born in 1975 in Benoni, South Africa and was destined for fame as she later became one of the most highly acclaimed actresses and producers in Hollywood.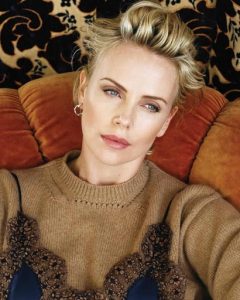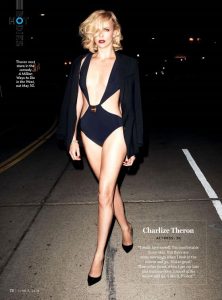 At the age of 16, Theron won a one-year modeling contract and moved to Milan. After modeling across Europe for a year, she had an injury and could not continue, so her mother and her moved to the US, where Charlize started her acting career. She debuted with a silent role in the horror film Children of the Corn III: Urban Harvest. It was not till 1997, however, when she starred in The Devil's Advocate when she started rising to fame. Ever since Theron was seen in a number of award-winning movies.
Acting, however, is not Charlize's only passion. The Charlize Theron Africa Outreach Project (CTAOP) was created in 2007 by Theron, who the next year was named a UN Messenger of Peace, in an effort to support African youth in the fight against HIV/AIDS.
#9 Crystal Kasper
Crystal Kasper is one of the most famous Instagram influencers among hot Africans. This beautiful lady posts about fitness, fashion, and beauty in her personal blog that over the years has garnered more than 50 thousand active followers.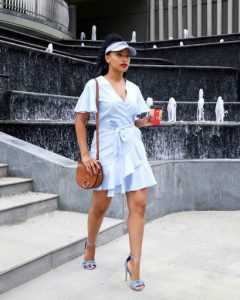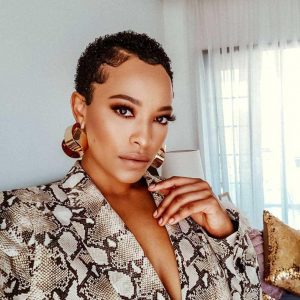 Crystal frequently updates pictures of her stylish looks as she is one of the most well-known stylists on Instagram. She is encouraging young girls to embrace their natural beauty and supports body positivity by promoting it into masses.
#10 Miriam Chemmoss
Miriam Chemmoss is a multi-talented artist from Africa that is most known for her singing, dancing, and acting abilities. Apart from that, she is also a successful entrepreneur and a public speaker that expresses her views on her social media platforms such as YouTube, Twitter, and Instagram.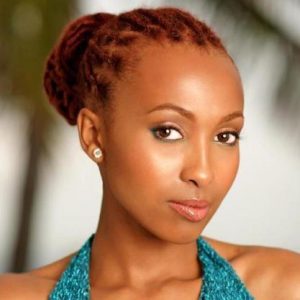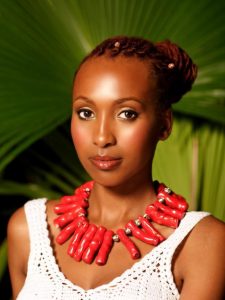 Her music, just like her cultural background is very diverse and brings together multiple sounds to create a unique result: it beautifully blends Afro-pop, Reggae, R&B, Hip-Hop, Soul, Rumba and Zouk, giving her a wide musical audience.
#11 Nonhle Thema
Nonhle Thema is a former TV personality born in 1981 in South Africa. Apart from being a TV presenter, she has also had a brief acting career. She even had experience working as a producer. In fact, Thema is the founder of Nonhle Thema Productions.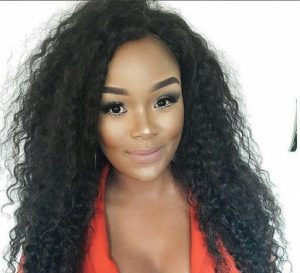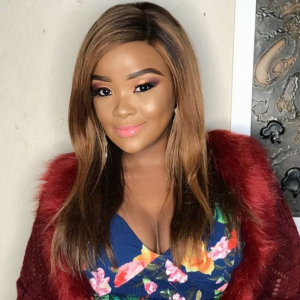 On her Instagram, Thema regularly posts about her travels as well as motivates her followers to become a better version of them.

#12 Honorine Uwera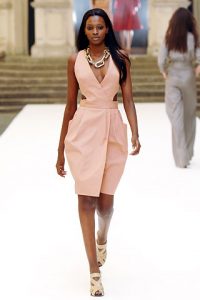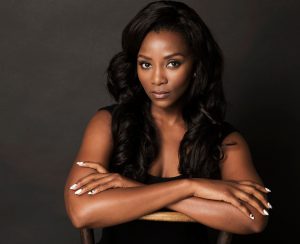 Honorine Uwera is a successful Rwandan fashion model that made her debut in 2004 walking for Yves Saint Laurent. At the moment Uwera is signed with multiple international agencies worldwide. She actively cooperates with IMG Models Milan, IMG Models London, IMG Models Paris, IMG Models New York, Folio Montreal, and Elmer Olsen Model Management Toronto. In 2014 she appeared on the pages of Vogue Italy.
#13 Kangai Mwiti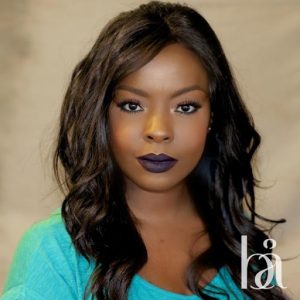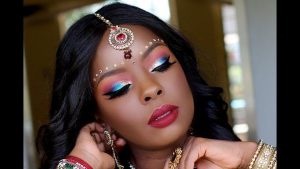 Kangai Mwiti is a successful African YouTube makeup and style blogger with over 100 thousand followers. On her channel, Mwiti shares makeup tutorials as well as talks about fashion and style.
#14 Nikki Perkins
Nikki Perkins was born in 1990 in Sudan. She is currently a rather famous YouTuber that runs an Australian channel, Jamie and Nikki. The net worth of Perkins is $600 thousand, which places her among the top lifestyle YouTubers.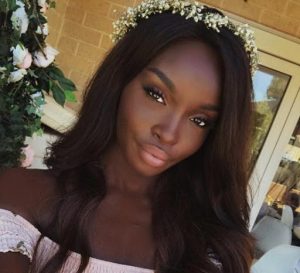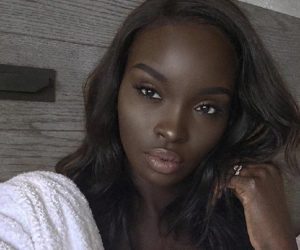 Apart from being a social celebrity, Nikki is also a model. In addition to that, Nikki is also known to be an Instagram influencer with her page having over 1 million followers.
#15 Iman
Iman is a famous Somali-American fashion model, actress, and entrepreneur. Apart from that, she is also a former muse of many famous designers such as Gianni Versace, Halston, Calvin Klein, Donna Karan, and Yves Saint Laurent.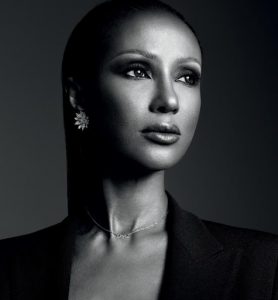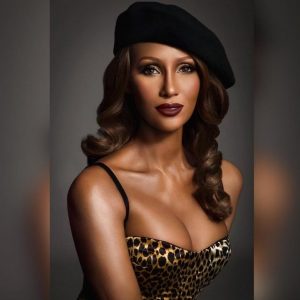 Besides her modeling career, Iman is also noted for her philanthropic work. She is involved in a number of charity endeavors as well as also serves as an Ambassador for Save the Children. In addition to that, she is also the owner of a makeup brand IMAN cosmetics.
#16 Tansey Coetzee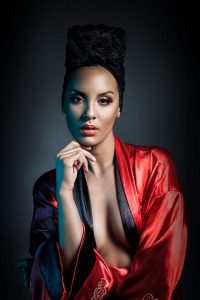 Tansey Coetzee is a South Africa native who was born in Johannesburg in 1984. Apart from being one the list of sexy African girls, she is also famous for her victory in Miss South Africa beauty contest in 2007. She also later represented South Africa in Miss Universe in 2008. 
#17 Lauren Mellor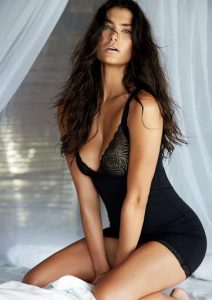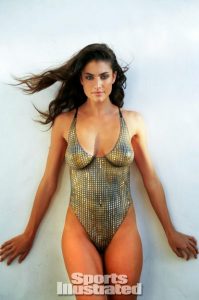 Lauren Mellor is a beautiful South African fashion model born in 1985. She is best known for her appearance in South African and American Sports Illustrated Swimsuit Edition.
#18 Titi Lokei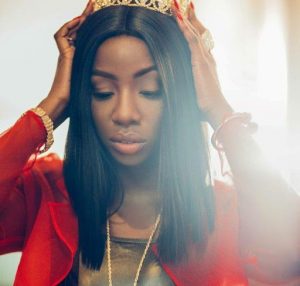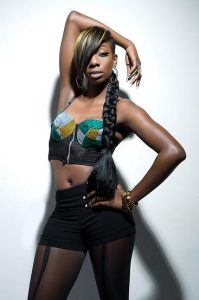 Titi Lokei is a hip-hop singer from Africa most well-known for her single African Dance. 
#19 Mayra Andrade
Mayra Andrade is a famous Cape Verdean singer who was born in 1985. She is mostly praised for her modern interpretation of the traditional Cape Verdean morna music.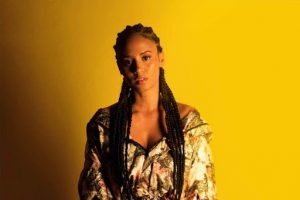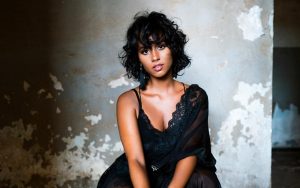 Andrade started her career back in 2011 when she collaborated with Trio Mocotó on the track "Berimbau". Besides being a talented musician, Andrade has an active social position. Since 2015, she has served as a celebrity ambassador for the United Nations campaign "Free and Equal". The campaign promotes the human rights of the LGBT community in Cape Verde.
#20 Yolandi Visser
Anri du Toi best known by her stage name Yolandi Visser is a South African singer, actress, rapper, music video director and songwriter that was born in 1984. She is best known for being a part of the rap-rave group Die Antwoord where she performs as a vocalist.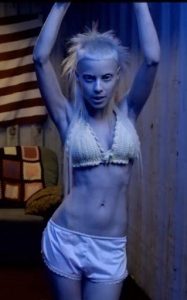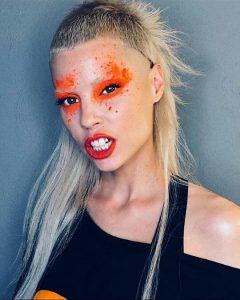 Apart from music, Yolandi has also made a name in the world of cinematography with her roles in Spook Asem (2004), Tokoloshe (2011) and Umshimi Wam (2011).
Conclusion
So, as you may have noticed, the beauty of African girls is very diverse and conspicuous. Africa seems to be a homeland to many models, and it is not surprising! In fact, you may check it yourself by simply going online to turn to the help of mail order bride services. Those platforms feature profiles of thousands and thousands of exceptionally beautiful African girls. Maybe a sexy African woman is exactly what you have been looking for all this time?